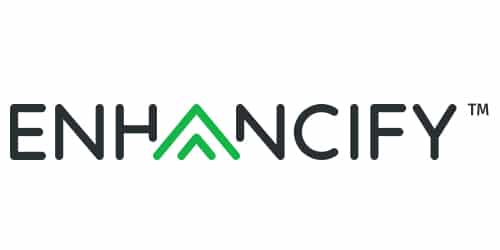 Get Approved For Easy Payments For Your Project.
Do you need roofing or gutter services… But are stressed about the financial burden?
Follow these steps below to get financing in place for easy monthly payments for your  roofing or gutter services by Roof Worx!
It's easy as 1, 2 & 3!
1) APPLY FOR FINANCING
It only takes a few minutes to apply through ENHANCIFY secured application page.
Just click the "Apply Now" button on this page.
2) REVIEW & APPROVE
Once approved you will be able to review and accept the loan terms.
3) BEGIN SERVICES!
Roof Worx will immediately begin services to complete your roofing and/or gutter project all paid for with easy monthly payments.
What happens after I submit my application?
There are five possible outcomes when you submit your application.
1- Approval – Congratulations. You are ready for immediate purchase. To protect your personal information and make sure that you're you, we may need a short phone call and confirm that you received the product or the service promised to you.
2- Preapproval, pending for verification – You're almost there. We will need some documentation such as recent pay stubs and proof of residence to confirm the information on your application form. Your preapproval notice will have a clear explanation of the next steps.
3- Pending for Additional Review – In some cases, we need more information to make our decision. We will contact you shortly to further discuss your application.
4- Declined – This is not a message we want to give, but based on the information provided, we are not able to extend credit at this time. You will receive a credit score disclosure and adverse action letter in the mail within 10 business days.
5- Reapply – Based on the provided information, we cannot extend credit to you but we encourage you to reapply with a credit-worthy cosigner which may increase your chance of approval (if you reapply within 30 days, we will not pull your credit report for the second time).
How long until I get my funds?
Once your application has been approved and documents are verified, funds are transferred directly to your merchant for your purchase.
What's the eligibility criteria?
At a minimum, you will need to have a regular income (minimum $1,500 before taxes), be a US Permanent Resident and be at least 18 years of age. Other credit and approval criteria will apply depending on your situation.
What documents do I need to apply?
To receive final approval on your loan application, in most cases you will need to supply us with the following documents:
Proof of Identity (driver's license or ID card)
Proof of Income (two of the most recent paystubs or tax returns for self-employed and proof of any additional income if applicable)
Proof of Residency (Copy of a current utility bill or a current rental agreement)
Depending on the details of your application, we may also require other documents in addition to those listed above. Please refer to your approval notice for the list of required documents.
What are the interest rates?
While we provide competitive interest rates, it is hard to give a number here because the interest rate changes based on the market, finance amount, term and applicant credit profile. Each approval notice includes the interest rate and same-as-cash option when available.
Is the interest rate variable or fixed?
We provide fixed interest rates under all our financing programs, meaning repayment amounts stay the same throughout the life of the loan. Having this certainty makes budgeting simpler and more manageable.
What are the fees?
There are no additional fees. There is no application fee, no documentation fee, no prepayment penalty, no other hidden fees. What you see on your contract is what you will pay (late fees may apply if the installment payments are not received on time).
Do I need to provide a down payment?
You are not required to provide a down payment.
How do I make repayments?
You will receive the repayment instructions after approval. Paying by direct debit saves you time and the hassle of manual repayments, it also helps you to avoid fees from missed and late payments (make sure you have sufficient funds in your account to cover the monthly payments).
Will I be charged a fee for making additional repayments?
Additional repayments can be made at any time and do not incur any fees. There are no prepayment penalties. However additional payments will not change the minimum monthly amount that you need to pay each month. They will shorten your total term and help you save on interest.
What is the Revolving Line of Credit option?
For services that are provided over an extended period of time (for example, two months or longer), we offer a revolving line of credit option, so that you don't have to start making payments for the services that you haven't received yet. You are approved for the total amount but make payments on only the partial amount for the portion of the services that you have already received. When you incur additional services, your balance and payments are adjusted accordingly.